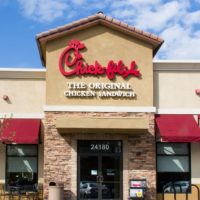 A popular southern fast food chain is continuing it's northward expansion. Chick-fil-A is seeking site plan approval for a new store on 24th Avenue in Fort Gratiot Township. Clerk Bob Buechler, speaking to WPHM's Paul Miller yesterday morning, says thee item is expected to be taken up at next month's Planning Commission meeting.
"They want to build in front of Meijer where Golden Corral used to be," said Buechler. Citing congestion at other Chick-fil-A's that have opened in Michigan, he says traffic flow is considered in the proposal. "They don't have their own driveway onto M-25, so any (traffic) overflow will be in the Meijer parking lot, so it's kind of an ideal location."
Buechler says the request from Chick-fil-A comes on the heels of the planning commission's denial of a nearly 900-acre solar energy project in the Township. Commissioners will be asked to approve or deny Chick Fill A's site plan during their December 12th meeting.