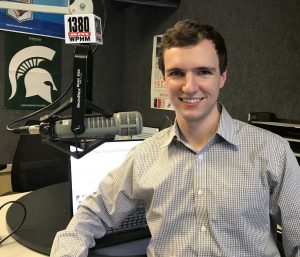 Caleb Gordon here and I am the Program Director for WPHM and News Director for RadioFirst/Liggett Communications in Port Huron. My radio career began in Port Huron a decade ago as an intern in the news department, before I left for the Lansing and Saginaw markets. Now, I'm back in Port Huron at the same station where it all began!
When I'm not programming WPHM or tinkering with electronics, I enjoy spending my time in the northern lower and upper peninsula of our great state. I enjoy camping, hiking, kayaking and am a self proclaimed "boat nerd" and "rail fan."
In addition to broadcasting, I volunteer for the Blue Water District of the Boy Scouts of America and am an Eagle Scout. I also serve on the board of directors for the Michigan Association of Broadcasters Foundation. An alumnus of Marysville High School, St. Clair County Community College, and Michigan State University.