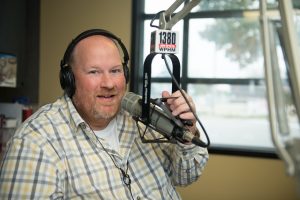 Hi, I'm Paul Miller, the host of the WPHM Morning Show, and I can't tell you how much fun it is being on the air every morning right here in my hometown! See, I grew up here. I went to Garfield, Holland Woods, Port Huron Northern, and SC4. In fact, it was back in 1987 when, as a student at St. Clair County Community College, that I started my radio career right here at WPHM. And some 20 years later I'm still here!
Actually, I came back. Again. After graduating from Central Michigan University, I worked in radio around the state, coming back to WPHM in the early '90's as a reporter. I continued my broadcast news career in Flint and Detroit, before leaving to take up marketing and public relations in 2000. Well, it didn't stick.
I jumped at the chance to get back on the air in 2002, and I have enjoyed every minute of it. I mean, this is the radio station I grew up listening to — and now here I am, every morning on AM-1380, talking with local news-makers about the important issues facing our community.
Caleb Gordon is along with the latest in local news. Dennis Stuckey helps us put things in perspective when it comes to sports. And we bring you up-to-the-minute traffic and weather updates and try to put a smile on your face, too. If it's happening in and around Port Huron it's happening on the WPHM Morning Show!
When I'm not busy at the radio station, I love spending time with my wife Anne and daughter Nora.