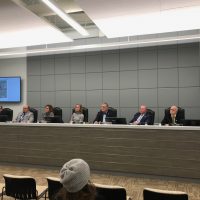 Marysville City Council unanimously passed the pair of resolutions Monday night.
Marysville City Council could approve resultions similar to those okayed by Port Huron City Council regarding police brutality and race. This evening, Marysville City Council members will be asked to denounce the death of African Americans recently who died while in police custody. They will also be asked to declare racism as a public health crisis in Marysville. This is not the first time race and Marysville politics have intersected. Last August, a city council candidate's forum was shocked after a former council candidate made a racist remark during a question an answer session. Jean Cramer's comments to, "Keep Marysville a white community," were quickly denounced by elected officials. Marysville City Council is scheduled to meet at 7:30pm tonight.
Meantime in Port Huron, bids are expected to be granted this evening for new playground equipment at Palmer Park and new security equipment at the Municipal Office Center. The playground equipment is expected to cost about $15,000 while the new security equipment comes with an approximately $34,000 price tag. Port Huron City Council this evening is also expected to pay tribute to former Radio First general manager Larry Smith who passed away earlier this year by installing a plaque in his honor at Heritage Park near the Military Street Bridge. Port Huron City Council meets at 7pm.