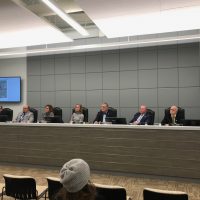 St. Clair County Community College could be expanding  south to Marysville with city council members Monday entering into an agreement with SC4 to host some of the college's athletic facilities. The partnership calls for SC4 to construct a track and soccer field at Morton Park and upgrade a softball field at Marysville Park. "The SC4 investment would be for SC4 athletics to use but also they would be available for city residents to use," said  St. Clair County Community College Chief Operating Officer Kirk Kramer. He says the college doesn't have a firm price yet on how much the upgrades would cost.
Marysville Mayor Wayne Pyden says he hopes it's the beginning of more collaboration with the college, including the former Marysville Museum. "We may lease to them (SC4) that building," said Pyden. "All athletics, that would be their office building."  Details regarding the proposed lease were not discussed Monday night and are not included in the intergovernmental agreement. SC4's Kirk Kramer said the college is exploring some "different facilities" in Marysville but declined to share specifics.
The 50 year intergovernmental agreement calls for Marysville to retain ownership of the parks with SC4 providing the capitol investment. It received unanimous support from Marysville City Council and will now need approval from the SC4 board of trustees which is expected to happen at the February 13th meeting.