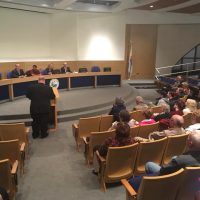 Those hoping to be Port Huron's next city leaders participated in a forum hosted by the Blue Water Area Chamber of Commerce and WPHM Radio Tuesday evening. All eight candidates for city council and all four mayoral candidates were in attendance. The city manager, parking, and unfunded liabilities were all brought up by Port Huron City Council hopefuls last night during the first half of Tuesday's event.
Current council member Anita Ashford says the city is working on a plan currently to help alleviate some downtown parking concerns, but couldn't share specifics, "My last meeting was confidential on the parking…. we are working on the added  parking downtown."
Bob Mosurak, also referencing parking, said "We don't have a parking problem as much as we have a walking problem." Jeff Pemberton acknowledged that there are "micro" parking problems in certain areas of downtown, however "Port Huron doesn't have a huge parking problem."
Marissa Williams says she personally has not been affected by downtown parking however a structure may be necessary. All eight candidates also expressed their concerns with Port Huron's unfunded pension and healthcare liabilities. Candidate Lisa Beedon says the city is on the right track thanks to the work of the city manager. "Port Huron is leading this effort… being lead by James Freed and our current council," said Beedon.
Also mentioned last night was the state of housing in the city. Councilwoman Terri Lamb spoke to the city's neighborhood housing corporation which makes city-owned houses available to first time home buyers. Candidate Jeff Pemberton says the problem isn't the number of rental houses in the city, rather, individual "slumlords" who don't take care of their property or residence.
Art Payne, a landlord himself, says potential  homeowners need more access to lending. John Hardman, speaking about blight, said "I think we need to steer away from blaming the rentals on all our blight."
During the mayoral section of last night's forum, candidates were asked about the role of the mayor, in which current council member Scott Worden criticized mayor Pauline Repp. "The mayor actually has much more influence when it comes to the agendas," said Worden. Rep, firing back, said agendas are set by the City Manager and not by the mayor. "The mayor has absolutely nothing to do with the agenda," added Repp.
There were also a few lighthearted moments last night, including an exchange between Repp and pastor Trey Smith when asked if it's time for a new Mayor in Port Huron. "In all honesty, I don't know if it's time for a new mayor." Smith went on to say he was running to bring attention to an ordinance regarding drug rehab centers.
Mayoral candidate Garth Grunsey stated multiple times last night that he would repeal the city's income tax to bring economic development to the city. Mayor Repp stated that without an income tax, the city's millage rates would be much higher to provide the same amount of services. Last Night's forum was moderated by WPHM's Paul Miller. Election day is Tuesday November 6th.
City Council Candidates Part 1:
City Council Candidates Part 2:
Mayoral Candidates Part 1:
Mayoral Candidates Part 2: