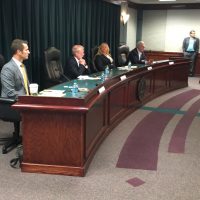 It was a full house Wednesday night at the Marysville council chambers as the four candidates running to represent the 10th district in congress made their case to voters. Republican Congressman Paul Mitchell, along with Democratic challenger Kimberly Bizon, Green Party candidate Harley Mikkelson, and independent Jeremy Peruski answered questions from Marysville Mayor Dan Damman in front of a packed audience.
Mitchell spoke to WPHM after the event, claiming he is the most experienced candidate of the four. "Sometimes people talk in broad talking points in politics," said Mitchell. Referencing his voting record, such as the Trump tax cuts and funding the Soo Locks, the incumbent Republican said, "I've made specific promises, I've kept them."
Independent candidate Jeremy Peruski believes he would bring a unique perspective to congress, if elected. Firing back at Mitchell, Peruski said, "He's a Republican, he's on the far right side, and he's definitely all talking points."
Democrat Kimberly Bizon says her top two priorities are education and the environment. "We care about healthcare, we care about unions," said Bizon during closing comments. "Currently, I believe that our politicians are not representing people and are not listening to people."
Green Party candidate Harley Mikkleson criticized defense spending and called for a single payer health system. On the topic of guns, Mikkleson stated, "We have more guns in this country than any other country." Specifically, Mikelson said, "Nobody needs them except soldiers and police officers," when mentioning semi-automatic and handguns.
Topics for the forum were prepared by Damman along with students in Marysville's Advanced Placement Government class. Topics included healthcare, immigration, and tariffs.
Full audio of Wednesday's congressional forum can be found below.
Part 1:
Part 2: