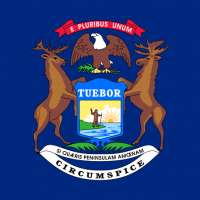 It will be Republican Bill Schuette taking on Democrat Gretchen Whitmer in November in the race to be Michigan's next Governor. Both won in the primary election on
Tuesday. Whitmer beat out Dr. Abdul El-Sayed and and Shri Thanadar. Schuette was victorious over Lt. Governor Brian Calley, State Senator Patrick Colbeck and Dr. Jim Hines.
Combat Veteran John James, a Republican, will take on Democratic U-S Senator Debbie Stabenow. She's represented Michigan in Washington for 14 years, and says there is more work to day. James — who beat out businessman Sandy Pensler in the primary — says the state is ready for a different voice. He gained the support of President Donald Trump, who  tweeted about him a few times during the campaign.
Former Michigan state lawmaker Rashida Tlaib has won the Democratic nomination to run unopposed for a House seat, setting her up to become the first Muslim woman
elected to Congress. No Republicans or third-party candidates ran in the Michigan District 13 primary race, meaning Tlaib is set to win the seat in November's election. The district is in parts of Detroit and western Wayne County. Tlaib will take the spot held since 1965 by John Conyers, who stepped down in December citing health reasons amid charges of sexual harassment.
It appears another Levin will be in Congress in the new year. Although not final, Democrat Andy Levin holds a lead over state Representative Ellen Lipton. Levin is the son of Congressman Sander Levin who is retiring after 35 years in Washington DC. In the 11th Congressional District race to replace Dave Trott, Republican Lena Epstein and Democrat Haley Stevens appear to have won their primaries against eight other candidates. The district winds through parts of Oakland and Wayne counties.
In the 8th District, Democrat Elissa Slotkin was victorious. She'll take on incumbent Republican Mike Bishop.
In the 13th Congressional District race to replace former U.S. representative John Conyers, former state lawmaker Rashida Tlaib has been declared the winner over five other candidates. Tlaib will be the first muslim woman in Congress.
In west Michigan, democrat Cathy Albro won the primary in the third district and will face incumbent Congressman Justin Amash in the general election.