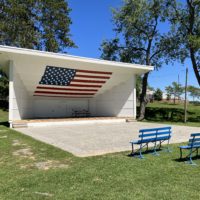 A proposed municipal amphitheater is on the way to becoming a reality for Marysville. City Council Monday voted unanimously to approve a bid of nearly $550,000 from Martin Construction to dismantle the current band shell in Marysville Park and build a new amphitheater in its place.
"This will be a unique space that really isn't present anywhere else in this area," said Patrick Phelen, an engineer with BMJ and Port Huron Civic Theater President. "We will have a nice stage to perform on, it also has changing rooms, and is built more for a theatrical environment."
Martin Construction was the only bidder for the project. They hope to demolish the band shell and pour a foundation for the amphitheater before winter. An estimated completion date is set for June 15th of next year.