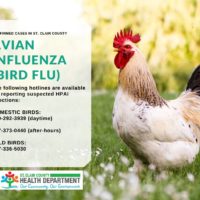 The St. Clair County Health Department and other state and local agencies are closely monitoring the spread of avian flu among domestic and wild bird flocks. Sheri Faust, Environmental Health Educator for the health department, tells WPHM the first cases were reported locally in late February and early March in ducks and geese.
"We have been conducting health monitoring of the virus and of people," said Faust. "The good news is that (the state) has had success in monitoring this and not having it spread."
She says ducks are carriers of bird flu and geese can get the disease but don't transmit it easily. Faust also says humans are not at risk from contracting avian influenza.
"It was detected in wild birds and it has been contained," said Faust. "There's no threat to human safety and there's also no threat to food safety. It is safe to eat properly handled and cooked poultry."
The greatest threat avian flu poses, says Faust, is the spread of the flu among domestic poultry farms and flocks, which could cause economic harm for those who depend on raising livestock for their livelihood.
Residents who notice the death of three or more free-ranging birds should report it to the DNR online or by calling 517-336-5030. If domestic poultry is experiencing severe illness or multiple deaths, contact the Michigan Department of Agriculture at 800-292-3939.