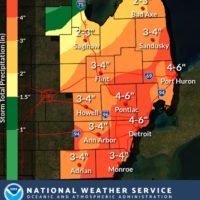 Meteorologists at the National Weather Service are explaining why there was so much damage from wind and rain Wednesday in the Blue Water Area. Steven Freitag, forecaster from the White Lake office, tells WPHM a low pressure and high pressure system collided over Lake Huron.
"The pressure created between the two, coupled with the residual warm temperatures of Lake Huron relatively, lead to a deep mixed layer," said Freitag. "We certainly had 40 to 50 mile per hour gusts along the shoreline of Southern Lake Huron."
Freitag says the low pressure system that stayed over the Thumb area for much of the day Wednesday eventually started moving northwest Thursday taking most of the winds and rain with it. Friday is expedited to be dry. About 4 inches of rain fell in the greater St. Clair County area while the highest totals were found in southern Oakland county where there was in excess of 6 inches of rain.