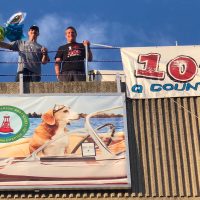 The St. Clair County Child Abuse and Neglect Council and Q Country 107 WSAQ officially kicked off the start of Community Roof Sit 2021 this weekend. Morning Show Host Matt Markham took to the top of the MiMutual Mortgage Building downtown to raise funds for the local non profit, which helps teach local kids about child abuse prevention. Sherry Archibald is the executive director of the CAN Council and says this week's roof sit is their largest fundraiser of the year.
"Our dream… is to prevent child abuse from happening in the first place," said Achibald. "We do prevention education in every elementary, middle, and high school in all of St. Clair County now, and our goal is to teach children how to protect themselves."
The Child Abuse and Neglect Council also helps the St. Clair County Prosecutor's office conduct forensic interviews of alleged child abuse victims at their offices in Port Huron. Pledges can be made over the phone by calling 966-9911 or by stopping by the Mi Mutual Mortgage Building in Downtown Port Huron. The Community Roof Sit , now in its 27th year, runs through Friday.