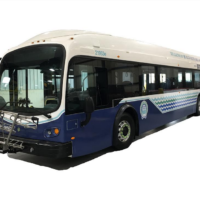 Blue Water Area Transit will be welcoming two new battery powered electric buses to their fleet. The transportation commission was the recipient of $1.5 million dollar federal department of transportation grant to purchase the two vehicles as well as construct charging facilities at their maintenance garage and downtown bus station. Dave McElroy is the general manager of Blue Water Area Transit and tells WPHM they will be the first 100% battery-electric transit buses to Michigan.
"They're 40 foot Proterra buses… when you see these buses on the road, you're going to know… they have a different wave pattern and list that they're 100% electric," said McElroy. "These buses are supposed to have a range of 170 miles and most of the routes they're going to be on average 140 miles, so we think they're going to work out really well."
McEloy says the public is invited to to come check out the new buses during a dedication ceremony to be held next week. Blue Water Area Transit will hold an open house Wednesday, July 14th, at their maintenance facility on Lapeer Road. Additionally, McElroy reminds the public that under federal order, masks are still required on public transit, including Blue Water area transit buses and facilities, through at least September.