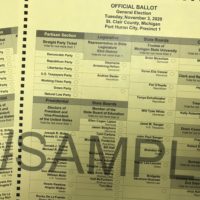 Tuesday is election day and in addition to the highly contested presidential election, voters Tuesday will also will decide the outcome for US Senate, Congress, and State House of Representative races.
Gary Peters, a Democrat, hopes to retain his position as Michigan's junior US Senator. He is facing a challenge from Republican John James.
We will have a new representative in congress in the 10th District to take the place of the retiring Paul Mitchell. Republican Lisa McClain and Democrat Kimberly Bizon both hope to fill that position.
On the state level, republicans Gary Eisen and Pamela Hornberger are hoping to keep their seats in the 81st and 32nd districts. They will face challenges by Debbie Bourgois and Justin Boucher, respectively. There will also be a new state rep for Port Huron, Fort Gratiot and Brutchville Townships, and all of Sanilac County. Republican Andrew Beeler and Democrat Stephanie Armstrong-Helton both running for the seat currently held by Shane Hernandez.
Voters will also head to the polls to decide the make up of local city councils, school boards, and commissions.
In St. Clair County, there are two contested commission races. Longtime commissioner Howard Heideman's retirement is prompting a contest in the third district. Democrat Lisa Beedon, a current city councilwoman, and Republican Zachary Smith both hope to fill his seat. Incumbent republican Duke Dunn in the fourth district is facing a re-election challenge from democrat James Papineau.
There's a heated race for Drain Commissioner between Republican incumbent Bob Wiley and Democrat Fred Fuller.
Mona Armstrong and Caryn Vanderhauvel are both hoping to be elected as 72nd District Court judge.
In the City of Port Huron, it's a three way race for Mayor and a four candidates are left vying for three city council seats. There's also a city-wide proposal allowing recreational marijuana stores. If approved, it would replace a similar, more restrictive ordinance passed by council last month.
Six candidates hope to fill three spots on the Port Huron school board. and it's a five way race for two spots on the SC4 board of trustees.
Polls are open from 7am to 8pm Tuesday. Local election coverage on 1380 WPHM will begin at 8pm.