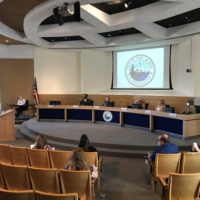 Port Huron City Council will hold their first regular session meeting in September this evening. On the agenda is a first reading of two ordinances both involving marijuana businesses. The first would allow for a limited number of adult use stores in the city, and the second, sets regulations on where they can be located.
This comes as the city is also being pressed by the activist group Progress for Michigan to allow the recreational sale of marijuana in the city. In fact, city council members tonight will recieve and file a petition from Progress for Michigan that seeks to put the issue on the ballot. The ballot question if approved by voters would force city council to pass an ordinance to authorize and regulate marijuana establishments. City council is on track to pass their own ordinance prior to election day.
City council is also posed to approve just a over $450,000 dollar bid from Genoa Contracting for improvements to Lighthouse beach with assistance coming from the Ralph C. Wilson Junior Foundation and the Michigan DNR. Council could also okay a $1.5 million bid from Lassalle Construction for work on McMorran Place including a rehab of the outdoor plaza. Also tonight council will receive and file a liquor license application from 401 Diner LLC, owners of Cavis Grill in Downtown Port Huron. City Council will meet at 7pm at the Municipal Office Center.