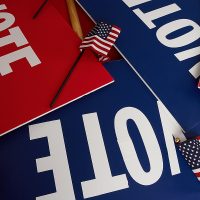 With nearly all precincts now reporting in the tenth congressional district, Macomb County businesswoman Lisa McClain has sealed the republican nomination for congress. Port Huron State Representative Shane Hernandez finished second with about 8000 votes separating the two.
On the Democratic ticket, Kimberly Bizon will once again be getting her party's congressional nomination, with about 4000 votes separating her from Kelly Noland.
Andrew Beeler will be the republican nominee in the 83rd state house district. About 1200 votes separated Beeler from Greg Alexander, the next highest vote-getter in that five way race for Shane Hernandez's current district. Gary Eisen will receive his party's nomination once again in the 81st district, safely securing the seat from challenger John Mahaney.
St. Clair County will have a new county commissioner in the 7th district. Marine City Mayor Dave Vandenbossche edged out incumbent Bill Gratopp by about 500 votes in the downriver district. There are no democratic challengers in the 7th county commission district, meaning Vandenbossche will face no challenger in November.
Rob Crawford has held on to his job as the supervisor of Fort Gratiot Townhsip, gathering 139 more votes than challenger Robert Montgomery. Crawford will not be facing any democratic challengers come November.
St. Clair County voters in a two-to-one margin said yes to drug task force and road millage renewals last night.
Sanilac County selected Paul Rich over Steve McKinney in the race for Sheriff and also narrowed down the three-way race for circuit court judge down to two, Mark Davidson, and Ted Wrathell.